Running Facebook ads is one of the effective speed marketing strategies to connect customers with businesses on the world's largest social network. However, the Facebook algorithm changes every day in connecting with potential customers, so advertising is a big challenge.
Facebook features allow advertisers to reach the exact target audience. So when running Facebook ads, you can reach potential customers who are in need of using the products/services you provide.
This way of online marketing allows you to reach customers directly, high demand with low budget, high conversion rate. However, Facebook ads come in many forms; depending on each goal for you to choose an effective approach to reduce costs.
SEE MORE:
1 – Types of Facebook Ads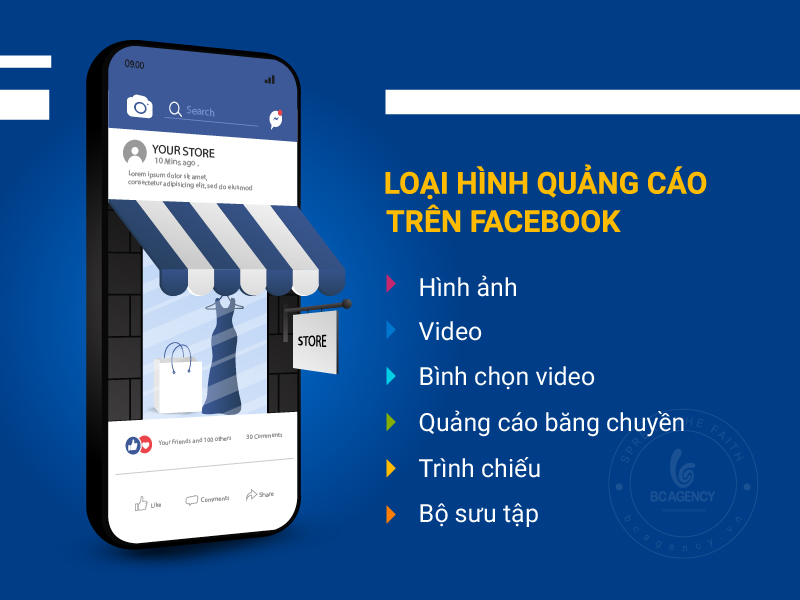 Picture
The most common type of advertising is simple image ads. This type supports you to create sales ads with just 1 click. You just need to upload pictures from your facebook page or sales page.
Advertising images on facebook should be simple, with few textures, using gentle colors to create sympathy for viewers.
Video
When you run video ads, they will be optimally supported on News Feed and Stories; Video ads can show up in community groups, or active products.
Video Ads you can use a recorded video, or create a GIF-like graphic, suitable animation to capture the user's attention; or simply product explanation.
Vote for videos
This is a new type of Facebook ad supported for mobile devices, combined with user engagement generated by video polls. The purpose of this ad is to increase brand awareness for users, which is more optimal than using conventional advertising.
Carousel ads
This type of advertising uses many images and videos to introduce products/services to users. The purpose of carousel advertising is to introduce the important benefits of the product, relating the whole product.
Slideshow
Slideshow ads offer an easy way to create short video ads; from the collections of images, pure content or clips available. You can select the ad images from the inventory of the ad manager.
Low-impact, attention-grabbing slideshow ads are used even by users with slow internet connection speeds.
Collection
Facebook Paid Ads for Mobile; You can feature product photos that an interactive customer clicks on to make a purchase.
Regardless of the type of advertising, the ultimate goal is to sell products and reach potential customers. With the right content, give them a good product experience to convert from interest to purchase and become our loyal customers. Requires the need to create unique, attractive, creative content.
2 – How to make Facebook ADS 2022 effective
When starting an online business on the Facebook platform, the first thing you should do is set up a separate business page, also known as a Fanpage. Once the Fanpage has set up, you go to Facebook ad manager or business manager to set up the appropriate ad campaign. The advice for you is not to use personal pages to develop into a sales channel because they will be limited in many functions.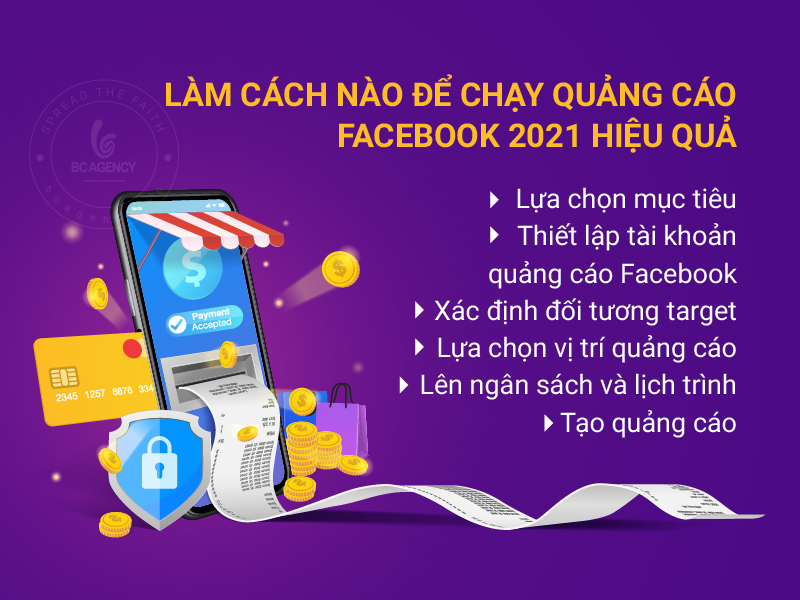 Step 1: Choose a goal
First go to Facebook Ads Manager and select Campaigns. Next, click Create to start running Facebook ads.
11 marketing goals are given by Facebook based on the needs of customers who want to run ads.
Brand awareness: Introduce your brand to users.
Reach: Optimizing and exposing your ads to the widest audience of customers you want to reach.
Traffic: When choosing Facebook ads, we can direct users to a website to drive traffic to support SEO, or an application, chat on messenger.
Clicks on fanpage: Reach more people to increase the number of people clicking on any post on your page, or pull people to Like page, register for events, encourage users to interact.
Install the application: Navigate the user to install the application
Video views: attract users to watch videos.
Generating leads: Reaching many potential customers who are in need of using your products/services.
Messages: encourage customers to contact your business via Messenger.
Conversions: Drive people to take action on your website like signing up or buying a product on your app or in messenger.
Online business catalog: Facebook ads are connected to product catalogs to show ads to users who are in need of buying products.
Store Traffic: Customers get close access to the online store.
Depending on the product you are trading as well as evaluate user behavior to choose the appropriate advertising objective. You can't pay for all goals and every goal will work with your product.
Step 2: Set up a facebook ad account
You need to set up an ad account to start running ads. When you successfully set up, there will be a button: Advertise right on the page. When setting up an ad account, you need to focus on entering your country, preferred currency, time zone, etc.
Step 3: Identify the target audience
By choosing the right location, age, gender and language. You can track the audience size indicator on the right side of the screen which will give you an estimate of the reach of this ad. The estimated fan page likes. This is just a guess the estimates will be accurate if you run from previous campaigns. Choosing an effective target is the key to optimizing profits and achieving maximum revenue.
Step 4: Select ad placement on Facebook
Where your ad will appear when choosing a placement. If you have not chosen the right location, Facebook will automatically place your ads on Facebook, messenger, Instagram, mobile ads, etc.
The advice for you is to choose the following ad positions:
Device type: mobile, tablet, desktop or all.
Platforms: Facebook, mobile advertising, Messenger, Instagram…
Sharing location: On Facebook wall, Stories, visible in Videos, messages, pages outside of facebook like website.
Mobile devices, operating systems: IOS, Android…all devices.
Step 5: Budget and schedule
Budget is the first thing you need to quantify when starting an advertising campaign. You can choose a daily or lifetime budget. Then you choose the ad date to start the campaign.
Add cost and bid controls so you can control and navigate when your ad campaign is working or not.
Step 6: Create an ad
The Facebook Ads ad format aligns with the goal. You can use the preview tool at the bottom of the page to make sure your ad fits all of your previously selected placements. Finally, "confirm" to submit the order. You will receive an email notification from Facebook when approved.
3 – Smart tips to run effective Facebook ads
Experiment with target audience
When you are inexperienced with running Facebook ads, you should test the beautiful customer group and then expand it by adding interest items at certain times. You can also use target customer groups to create different ads.
Target should match the user's language to provide friendly, interesting and sympathetic content for viewers. Target people who are interested in your product.
MAYBE YOU ARE INTERESTED:
Using Pixel Facebook
The Facebook pixel is an ad campaign impacting code that helps you track conversions; Adjust advertising and marketing campaigns to people who are interested in your products on the website.
Use real photos and videos
Do not abuse too many images, or use open images, images with too many pixels. Trending videos, bullshit videos will often not cause sympathy for customers who are in need of using the product. Content is considered the soul of advertising, the smoother the image will attract and create a good impression.
General test
Each advertising campaign needs to be carefully considered and prepared: from market research, type and content to reach customers. Do not risk a brand new campaign, but should test it against previous advertising content to achieve high efficiency.
Evaluate and optimize performance
Every Facebook ad campaign needs to closely monitor activity in the Facebook Ads Manager dashboard. If the advertising is effective, expand the budget and customer base in a large scale. If your ads are underperforming, reallocate your finances.
Above is the experience of running Facebook ads that BC Agency introduces to you. If you are looking for a professional Facebook advertising agency, please inbox BC immediately! We provide professional, synchronous Facebook ADS advertising service from content to beautiful and unique images to attract customers. It is our pleasure to serve you.