Have you ever wondered why your website article is extremely attractive but still does not rank high on the Google search engine? There are thousands of articles created every day. In order for your article to stand out and get more clicks, you need a standard SEO content.
What is standard SEO content?
To optimize the article, you must first understand what SEO is and what is standard SEO content?
What is SEO?
SEO stands for Search Engine Optimization.
In a nutshell, it is the process of improving your website to increase its visibility for relevant searches. The better your pages show up in search results, the more likely you are to attract attention and entice potential customers to your business.
What is standard SEO content?
Standard SEO content are articles with keyword-optimized content to push your article to search engines. It includes writing articles and structuring the content on the website. To have an SEO standard article, you must pay attention to 3 main issues: keyword strategy, page structure and article text.
A standard SEO content is extremely important because search engines like Google will crawl your website. So the words you use in the article will determine whether your website will appear on the results page or not.
A standard SEO content usually meets the following factors:
There is a title related to the article
Meta description is standard length, contains keywords
Heading is properly distributed
Pictures with captions
Keyword density accounts for 1-5% of the entire article
Why is SEO important in marketing?
Every day hundreds of thousands of people use search engines. A topic even has millions of results. If your article stands out on the top of search, it will have a huge impact on your business.
According to research by Inter-growth:
Google currently holds 92.27% of the total search engine market share. Therefore, it is extremely important for your article to appear on the top of Google search.
61% of B2B marketers say SEO and organic traffic generate more leads than any other marketing initiative.
75% of users don't spend time clicking on the second search page. If your SEO article is effective, your article will help you stand out from your competitors.
Google always changes its algorithm to bring users the most useful and valuable information. If your website is optimized for SEO, it will help improve the user experience and easily gain the trust of customers.
How to write standard SEO content
Knowing SEO is extremely important, so how to have an SEO standard article?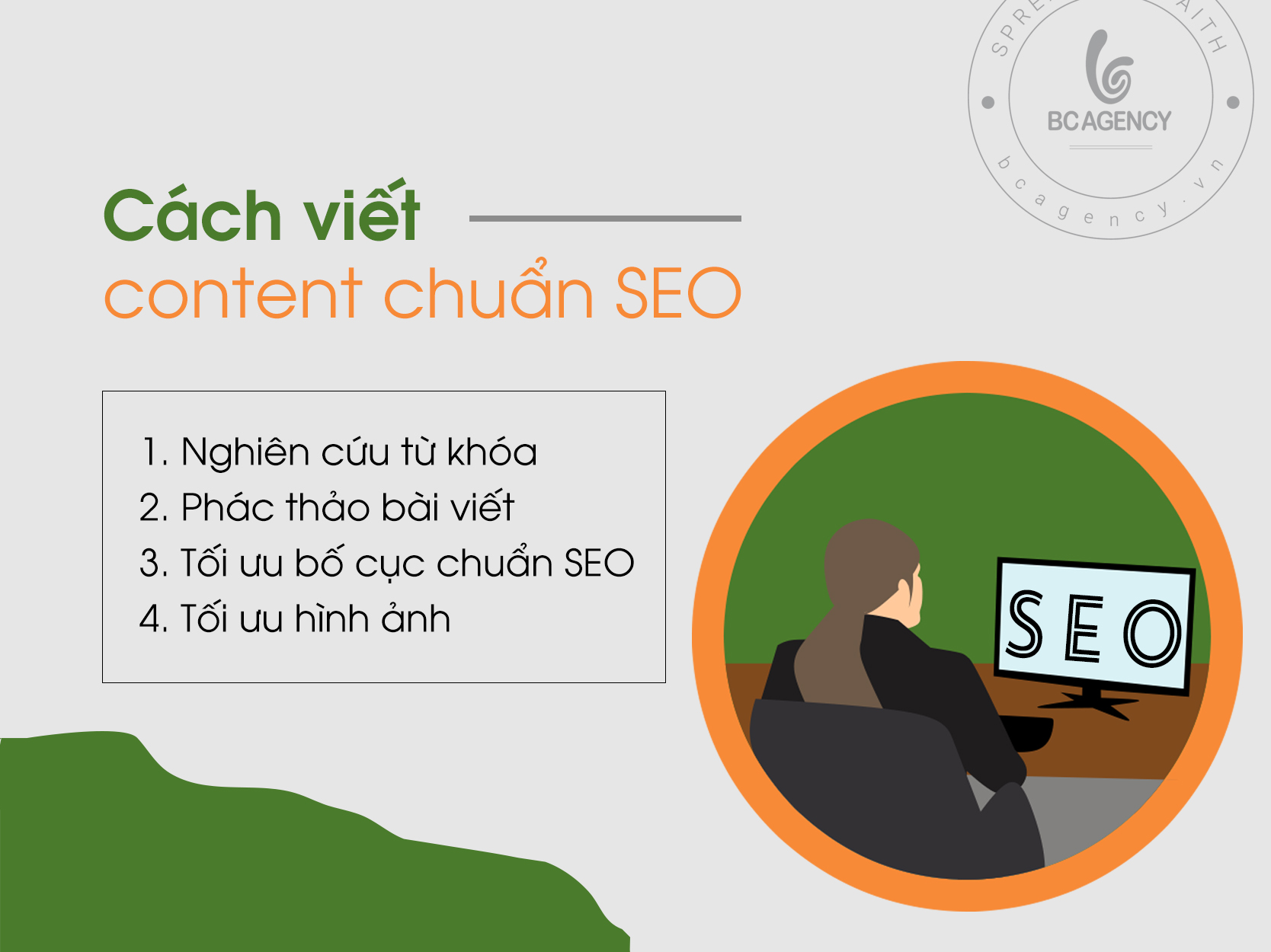 1. Keyword research
This is the process of researching related keywords that are being searched on Google. These keywords will help content writers decide what topics to write about.
Keyword research tools you can use:
Google Search Console
Answer the public
Google Keyword Planner
SEMRush
Keyword Tool Dominator
…..
2. Outline article
Outline the main ideas and related keywords that will be in your article. This will save you time when writing. To draft your essay you need to answer the following questions:
Main topic of the article and related items
Who is your target audience?
Arguments to guide your essay
Order and content of each item
Related content in each major/small category
3. Optimize SEO standard layout
A standard SEO content article usually has the following layout:
Title: Contains the main keyword, usually 50 – 60 characters long
SAPO: A short summary of the main idea of ​​the article, helping readers understand the entire content of the article
Body: Include subheadings and supporting content for the title
Conclusion: Summarize the main content and repeat keywords. Service websites will often add a Call to action section and contact information.
4. Image optimization
A standard SEO content marketing article is usually 800-1000 words long. If the article has only a series of words, no one will want to read to the end.
Each post needs at least 1-2 images. Design your own images for your website. Remember to optimize the image quality for the best clarity.
Conclusion
Above are the experience of writing standard SEO content that BC Agency has drawn after serving many customers.
It would be great if our sharing helps your business have a more effective strategy.
However, the practice of standard SEO content is something not everyone can do right away. To be able to optimize web SEO takes a lot of time and effort. If you are not an expert then getting started with SEO will be extremely difficult.
Google always changes the algorithm, so the website is easy to lose rankings. So this job requires you to update the content regularly.
If you have trouble making SEO-standard content and want to save money on hiring experts, BC Agency's content management service is the best solution for you.
Contact us immediately to get your problems answered with professional SEO services at the best cost.