Before the unexpected "storms" of Facebook, Google, TikTok, Bing, you should have a few strong ad accounts like Invoice account ready to run ads stably and spend big. However, many of you still do not understand what an Invoice account is. Also, it is not clear what the difference is between Invoice tkqc and normal accounts. Or how to get Invoice account? The most complete answer invites you to follow the article BC Agency shared today.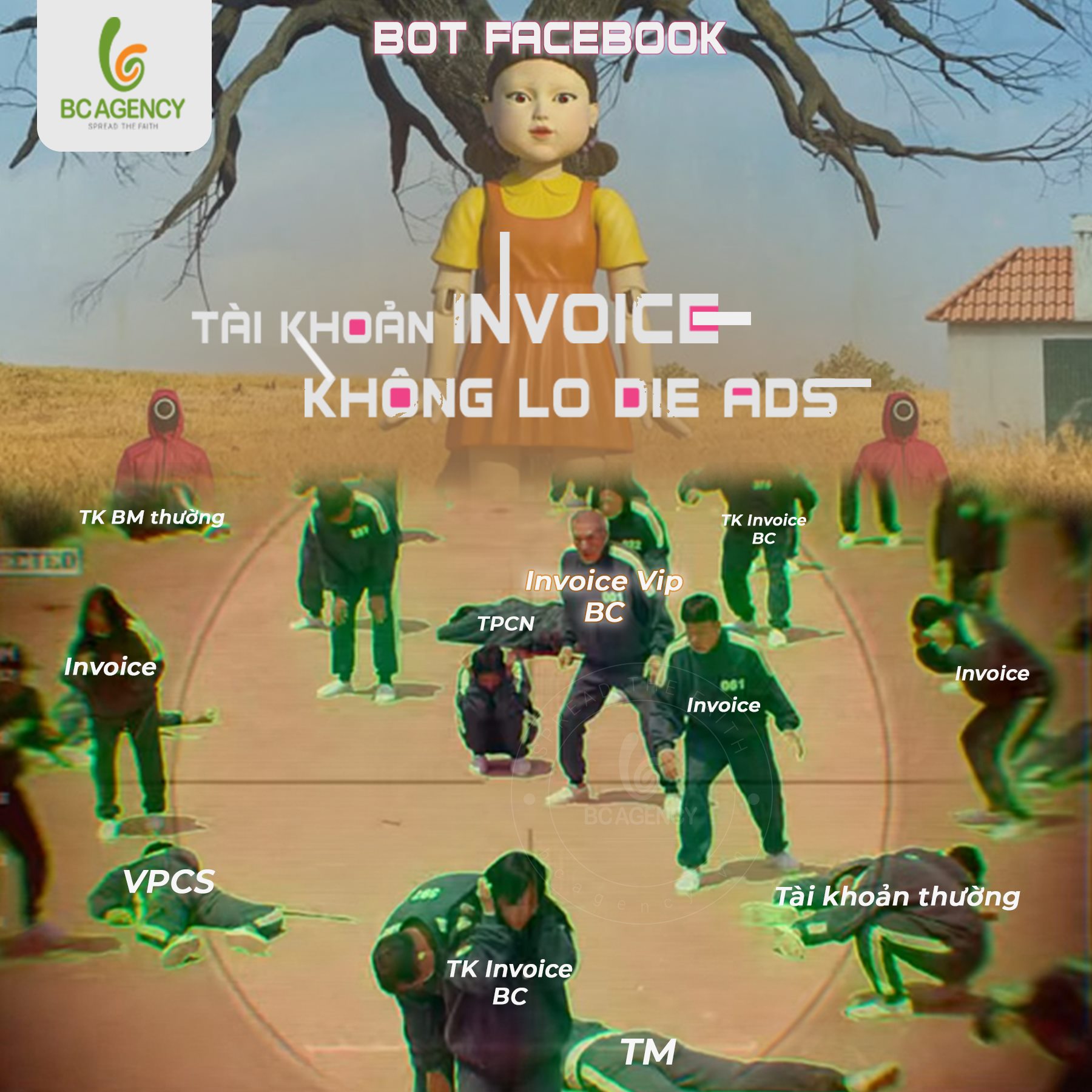 What is an Invoice account?
The Invoice ad account is the most advanced form of the Business Manager account. This type of account is offered exclusively by the platforms to high-spending organizations; or reputable Agency – Partner partners, specializing in developing platforms for the ecosystem. An Invoice account is also known as Monthly Invoicing, BM Invoice or BM Agency.
To put it simply: Invoice Ads is an agency-specific account that features:
Has a very large credit limit, unlimited daily spending.
Spend first, pay after you hit your limit or at the end of the month.
The account does not use a card.
Runs all clean items and ensures compliance with Facebook Policies.
Can multiply camp, multiply freely, run conversion, run mess, BP,…
Account stability is higher than other types of accounts.
The difference of Invoice account compared to other accounts
Facebook/Google/TikTok/Bing Invoice account limits the weaknesses of regular accounts. As follows:
About payment method:
Normal account: Pay in advance, subtract as much as you spend in the card. If you don't pay extra, the ad will stop delivering.
BM Invoice: Pay later, spend all your money within your credit line or only need to pay once at the end of the month. Don't worry about ads being stopped serving.
About the daily spending limit:
Normal account: Limited daily spending, not "enough" to screw big budget.
BM Invoice: Unlimited daily budget, run until the credit limit expires.
Regarding stability:
Normal account: Every time Facebook scans, the account is limited, permanently disabled a lot after each "storm".
Monthly Invoicing: You can set hundreds of camps, hundreds of groups, hundreds of ads without worrying about abnormalities.
About the speed of biting money:
Normal account: Long wait, it can take a few hours for the camp to start working.
Monthly Invoicing: Biting money at a dizzying speed, setting ads is done and working and biting money right away.
Conditions for account granting Monthly invoicing
It can be said: Owning an Invoice account is like having a gold mine in your hand. But how does Facebook give you an Invoice account?
In theory, Invoice is the account that Facebook / Google / Tiktok / Bing grants to Partner / Account Manager to run ads when meeting the following conditions:
There is a Facebook customer support representative.
Spend at least $10,000/month in the past 3 months.
The minimum spend to maintain the account must reach 5000$ in 1 month.
Ad compliance with advertising policy
When eligible, the platform will send you a notice inviting you to use this feature. However, when you are granted an Invoice account, you need to spend a lot of money and regularly on that account so as not to be withdrawn by Invoice platforms.

Regulations on leasing Invoice accounts are very strict, especially in Vietnam. So usually you have to connect directly with representatives of the respective platforms to own this type of VIP account.
BC Agency leases Invoice advertising accounts
BC Agency is a partner unit of Facebook, Google, Tiktok, Bing and receives high trust. Therefore, the Invoice account leasing service in BC currently has the best fee on the market and applies to many industries.
How to get an Invoice account?
With the Invoice advertising account that BC Agency leases, you will:
Granted your own ad account, you can start your own campaign.
Run all clean items (POD, Dropship, household, fashion,…) and items such as spa, beauty salon, functional food, TM, Game,…  but must be reviewed by BC Preview first to make sure the camp runs smoothly and the account runs smoothly.
Note when getting an Invoice account
When you register to run a product line, you can't set another array, if it's the same category with different posts, it's fine.

Posts when setting camp must be new posts and sent to BC for 100% approval.

Prepare an old page or a new unstained page to receive the account.

Do not use Invoice registration page to run ads on other accounts.
You are running Ads with a personal account and feel that the account you are using to run is not efficient. Or the ad is slow to approve, has limited spending, high advertising bid price, the account is easily flagged, disabled, etc., you can choose to rent an Invoice Facebook ad account at BC Agency. Get a "buffalo account – burn healthy money" with unbeatable low fees!
> See more: