BC Agency is proud to be a professional fanpage management service provider for thousands of businesses. Today, with the explosive development of social networks, Facebook fanpage has become one of the most important tools to help businesses do business and promote their brands. But not all businesses know how to use this platform effectively, . Let's see how BC Agency will help you manage your fanpage.
What is fanpage management?
Fanpage management is the process of managing and developing fanpage. In order to increase interaction with customers and reach potential customers.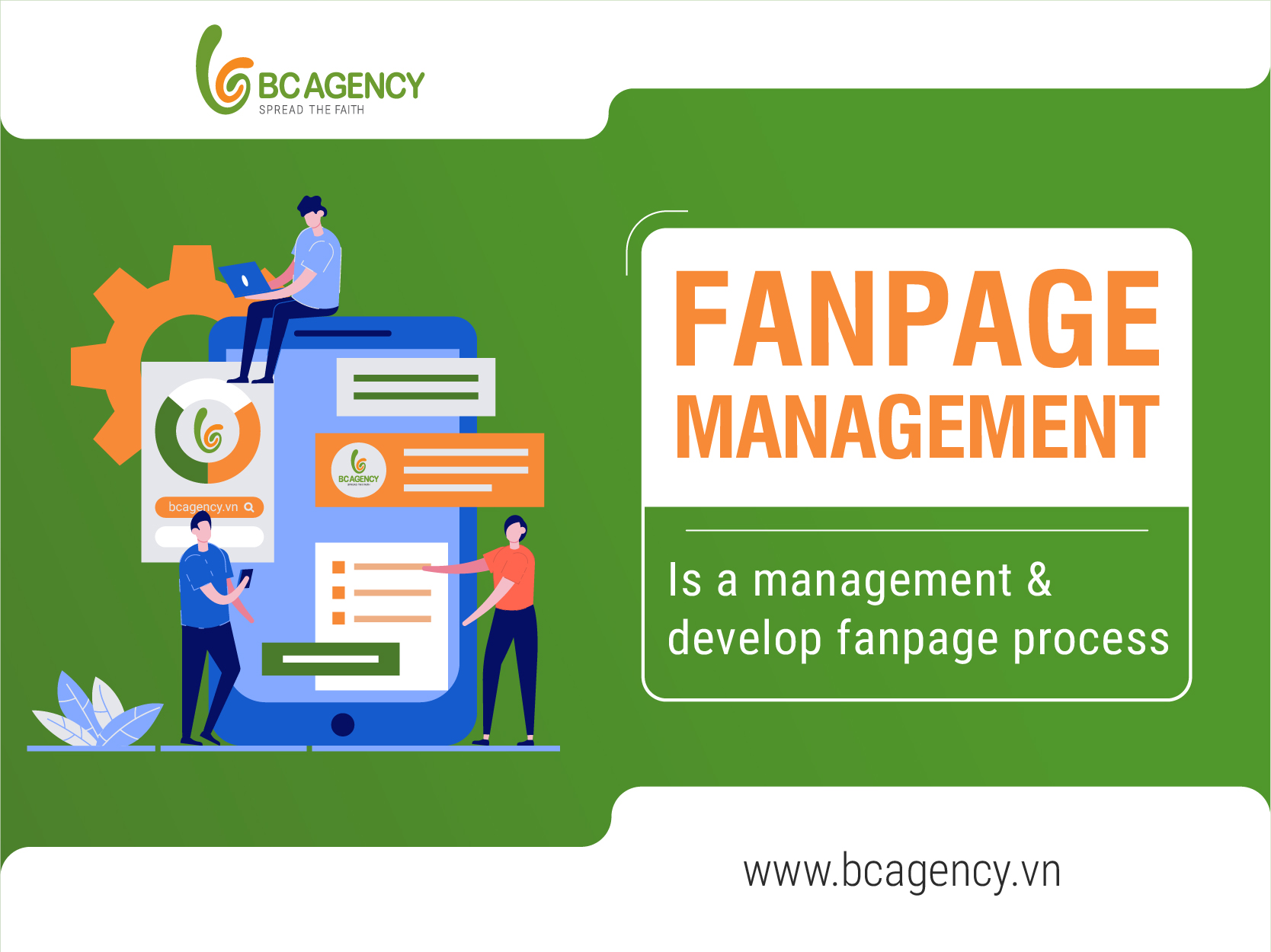 BC Agency's mission is to create and find new and unique content, update products and services for yours businesses every day. We make sure your fanpage will always attract users, helping you to strengthen your business and advertising.
⇒ See more: Website management services from A-Z for businesses
Common problems when managing facebook fanpage
The article is cumbersome, the content is too long and repetitive
The content posted on the fanpage is the most important factor to attract attention. Many businesses just post the same content over and over again. Causing boredom for customers.
Posting too much
Posting too much is also an act of spam. The frequency of posting too much is just posts with the same content that will make fanpage followers feel uncomfortable. They can unfollow your fanpage immediately.
Do not use Facebook Ads
Facebook is currently the most used platform by businesses to do business. So your business will have a lot of competitors. If you only use fanpage to post regular ads, you won't be able to reach the right customers.
What does BC Agency do to manage fanpage effectively?
BC Agency's fanpage management service is done in 6 steps:
Initialize Fanpage
BC Agency will create a fanpage suitable for your industry and form of activity. A suitable fanpage will make it easier for customers to find and use.
Master planning
One of the ways to effectively manage Facebook pages is to know how to plan according to the target customer journey. BC Agency will help you plan posts, categorize post content on fanpage, update full information to customers, measure customer interactions on fanpage.
Content creation
The content of the post is attractive, captures the right insight, etc., all of which are detailed and meticulous by BC Agency with a variety of writing styles. Make customers more interested in your services and products
Content spread
In order for your fanpage to be widely known and reach target customers quickly, BC Agency will support your business to promote, share fanpage to groups, push fanpage ads with Facebook ads, post ads. post, seeding, like, share posts.
Designing images and videos
In addition to attractive creative content, BC Agency also owns a team to design unique and eye-catching images, create and edit professional videos that both help businesses promote their brands and create highlights in the eyes of users.
Reviews and reports
To optimize the fanpage management , we always evaluate and report the results regularly. The bad things will be overcome as soon as possible and the good deeds will continue to maintain and promote.
Who is the fanpage management service for?
You need a quality fanpage but:
Can't find a professional fanpage admin editor.
No time to learn and capture new information every day
Facebook's tools are too difficult to use
You have just opened a business and do not have a sales fanpage, do not have experience in managing fanpage
Your fanpage does not reach many customers, low interaction
Benefits of using BC Agency's fanpage management service
When using BC Agency's services, you will receive:
Articles with diverse styles, creative content, friendly, attracting customers
Beautiful and eye-catching images, creating a highlight with customers
Specific post plan suitable for target customers
Professional copywriter team
Save the cost of hiring administrative personnel
Quote for Fanpage management services pricing
Your fanpage is sketchy, not taken care of properly. The interaction is low, the articles are not impressive, the videos and images are not attractive enough, the Facebook tool is too difficult to use, and the cost to hire a Facebook fanpage administrator is too high. Let BC Agency help you manage your Facebook page in the most effective way.
Contact directly: 0838 586 166 to receive a detailed quote.
Or register for a free consultation HERE
BC Agency – Professional Facebook fanpage management service
BC Agency has provided fanpage management services for more than 1000 businesses and brands. Helping reach thousands of target customers, creating the absolute trust of partners. Coming to BC Agency, we are committed to providing you with professional, methodical and suitable fanpage management services in line with your business orientation.
Let BC Agency with a professional and elite team help your business build a quality fanpage.
Contact us immediately for the best service support.
⇒  See more: Website management services from A-Z for businesses
CONTACT INFO:
Address: 399B Vu Tong Phan – Khuong Dinh – Thanh Xuan – Hanoi
Phone: 0838 586 166
Email: [email protected]
ĐĂNG KÝ TƯ VẤN