BC Agency is proud to be the company that has brought comprehensive solutions for many business websites. Website is one of the main online marketing platforms to help build a business' brand identity. In order for the website to work at its best, besides owning an eye-catching interface, businesses also need to effectively manage the website. So let's learn with BC Agency what website management is and how we manage websites for businesses.
What is website management?
Website management is the management and optimization of the website, so that the website runs smoothly and helps to improve the user experience.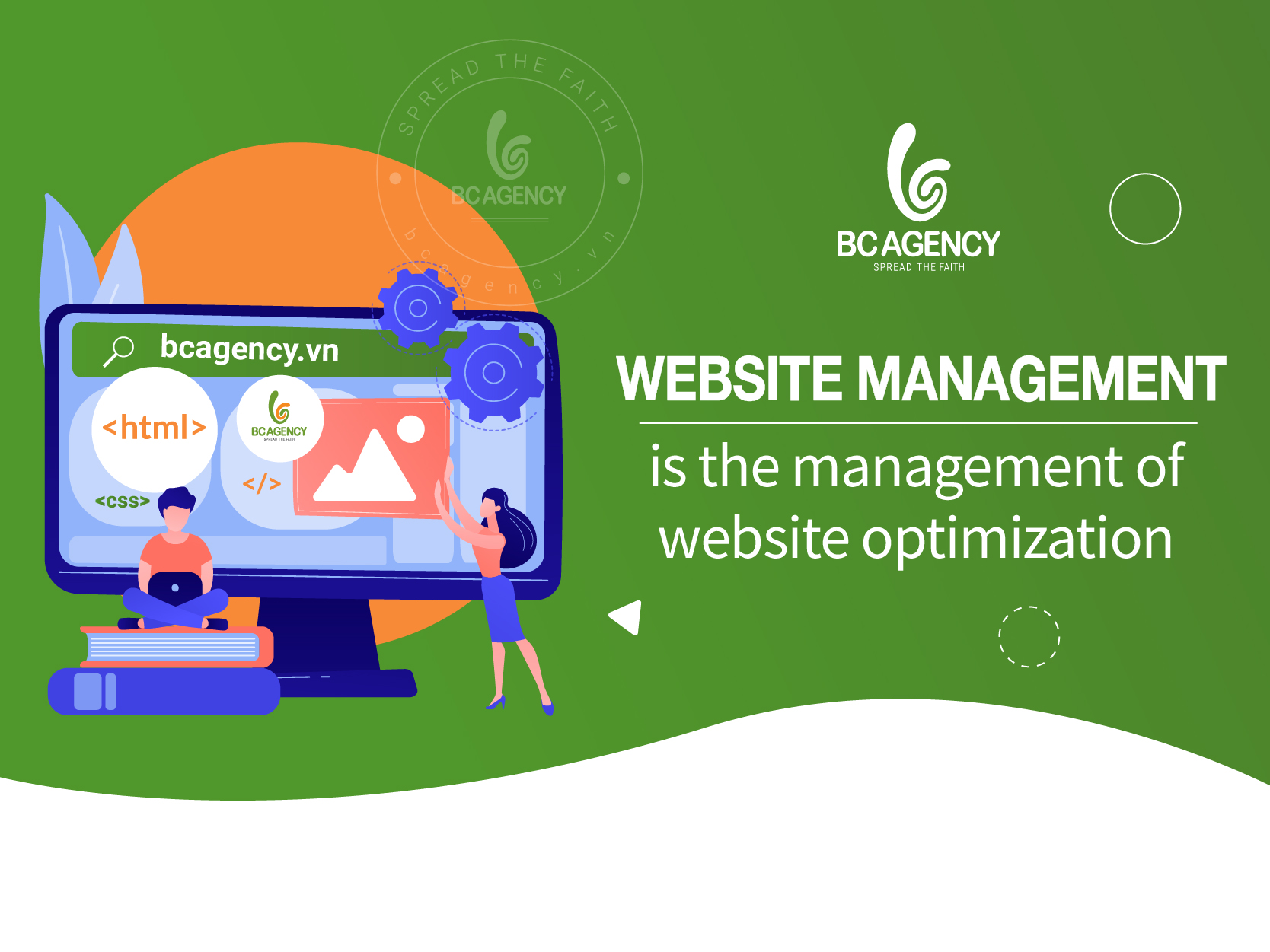 BC Agency's primary responsibility is to maintain; backup and update existing websites for businesses. BC Agency will be responsible for designing the user interface of the website that is easy to understand and effective. Ensure that all websites operate securely and at optimal speeds.
⇒ See more: Professional Fanpage management service
Common mistakes when managing a website
When businesses do not have experience in website administration, they often encounter the following errors
Complicated website design makes it difficult for users
Many businesses design website interfaces that are cumbersome and difficult to use. This will cause great inconvenience to customers lead to customers can feel uncomfortable and leave the website immediately.
Error website cannot be displayed
When a business has a website error, customers can't search or click on the website will show an error. This is the reason why customers stop using your website anymore.
Do not use suggested keywords on pages
The next mistake is not using keywords on the sites you admin, not having article descriptions and not using keywords that customers often search for.
How does BC Agency manage the website?
BC Agency performs website management in the following 6 steps
Website interface optimization
Friendly website interface is a factor in customer retention. BC Agency always updates the interface so that customers can always use it in the easiest way. Besides, errors about images, links or web code… are also checked and fixed regularly.
Content planning overall and throughout
The trend of the world is constantly changing, we must also keep updating. BC Agency always update the current trending content to come up with new plans and optimize website content. When implementing new content, BC Agency does not forget to be consistent with the mission of the business. From there, introduce products and promote the brand to users.
Update new content with stunning and synchronized images
BC Agency with a creative and professional design and media team will always update new content with beautiful and synchronous images on the website. Make sure your website is always eye-catching and attractive.
Line management and data backup
When using a website management service, you will be assured that the hosting connection is always working properly. In addition, BC Agency will regularly back up website data in case the website has serious problems, there is still data to recover.
Website advertising
Website advertising helps your website appear on search engines. At the same time, you can reach potential customers. BC Agency will help your business run website ads on Google Ads, or forums, email marketing, etc.
Reporting and performance evaluation
The evaluation step is a necessary step for all jobs. Website administration is no exception, we always evaluate the work performance regularly. Good deeds will continue to be maintained and bad points will continue to be overcome.
Who needs to use Website Management Services?
Modern technology is developing day by day. Customers are more likely to shop online than to shop in person. Therefore, businesses in addition to traditional business also develop more websites to reach customers more easily and quickly. Along with the development of the website, the website management is indispensable. So who is the website management service for?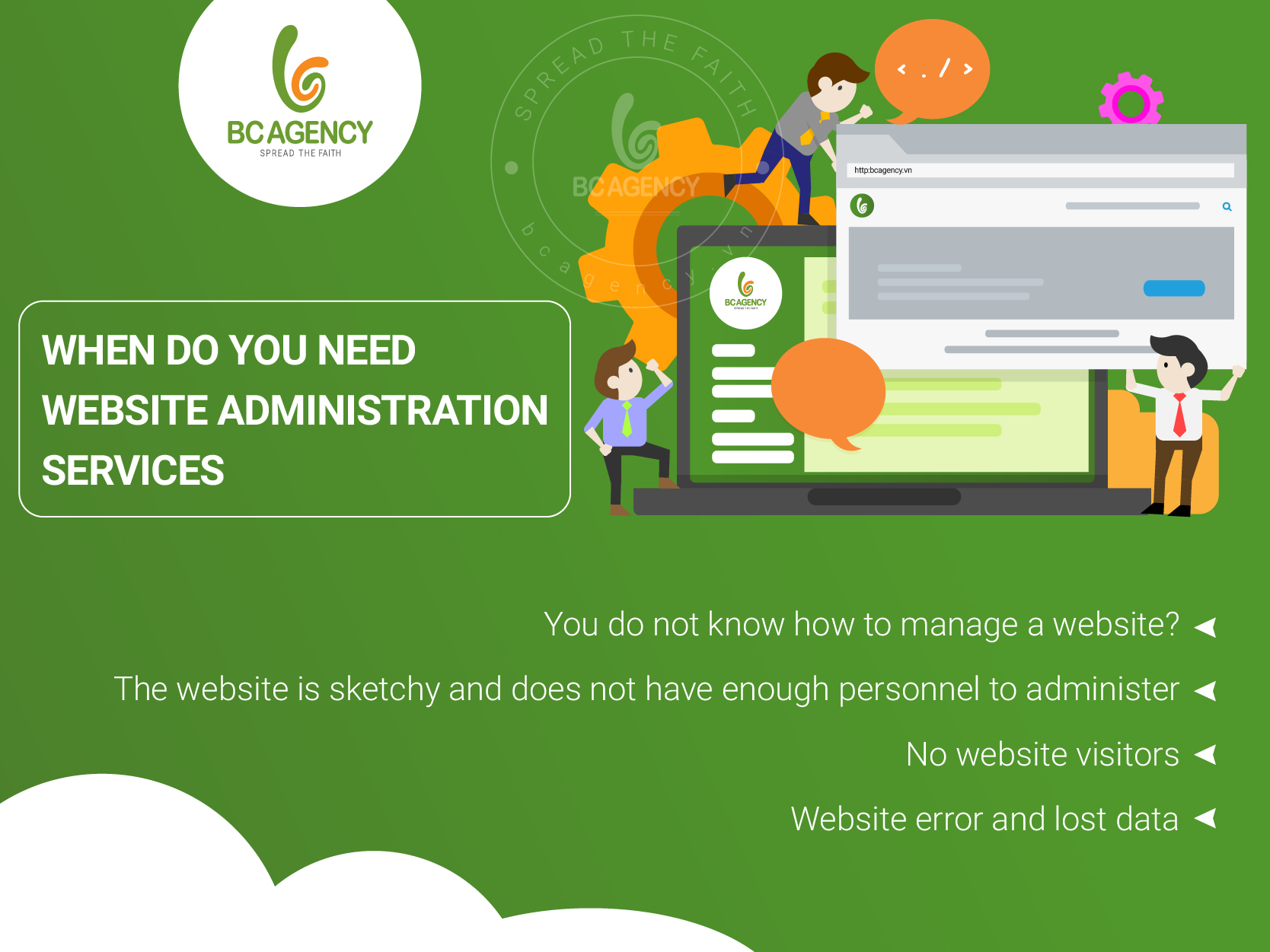 New businesses and have never set up a website. These customers do not know how to properly manage the website.
Businesses have websites, but the website is sketchy. Enterprises do not have enough human resources to manage the company's website.
Businesses that have a website but have no or very few visitors.
Businesses have website errors, lose website data but don't know how to recover.
Benefits of using BC Agency's website management service
Your benefits when you use BC Agency's website management service
Operational cost savings
When using our service, you will only have to pay 3/4 of the cost compared to hiring staff, paying insurance, employee benefits,…. Thereby saving operating costs for businesses.
Focus on the main function
Let your employees do their job properly. Instead of having to do an extra position as a webmaster in a company that they have not been trained properly.
Timely control of incidents
The website system always has potential problems that need to be handled quickly. If you do not have much experience, the processing will take a long time. Causing a lot of trouble for the company itself as well as the customer.
Reduce management
When using BC Agency's webmaster service, you will not need to worry about the content of the post having problems. One less task that you need to manage.
Quote for fanpage administration services pricing
With a very reasonable cost, your business has right away the extremely professional website management service of BC Agency. We will help your website to be updated daily with news, extremely professional images, impressive banner design, increase the number of visitors and regularly fix website errors.
Contact directly: 0838 586 166 to receive a detailed quote for your website.
Or sign up for a free consultation HERE
BC Agency – Professional website management service
BC Agency has worked and created solid trust and satisfaction for more than 1000 businesses and brands. Coming to BC Agency, we are committed to providing you with professional, methodical and suitable website management services in line with your business orientation.
BC Agency specializes in providing website management services, website advertising, SEO standard content with a professional, elite team, always working with CREATIVITY – RESPONSIBILITY – PASSION.
Contact us immediately for the best service support.
⇒ See more: Professional Fanpage management service
CONTACT INFO:
Address: 399B Vu Tong Phan – Khuong Dinh – Thanh Xuan – Hanoi
Phone: 0838 586 166
Email: [email protected]
ĐĂNG KÝ TƯ VẤN