Facebook Vietnam is a fertile ground for businesses to develop, to reach customers online with 69 million accounts. The source of access is extremely large, especially the birth and development of Fanpage. But, not just creating a communication channel is that businesses can sell goods, but it requires attractive and attractive Fanpage content to retain readers to interact effectively.
In the following article,
BC Agency
shares with readers the initial information for new businesses starting to approach customers through communication channels. You can deploy content marketing by product group, communication channel, etc.
1 – What is Fanpage content?
Fanpage content is a form of
content marketing
, you can use images, audio, videos, infographics, messages… All content is to provide information to readers, orient users to the behavior that businesses marketing is underway.
Through text, customer-oriented images to convert their behavior from readers and information to potential customers and loyal customers.
2 – The importance of Content Fanpage
An advertising campaign is most important to focus on content. Along with that, it integrates fanpage promotion activities such as likes, events, links or TVC ads to bring readers interested in the content the fanpage provides. The decision to buy or not is no longer based on the content offered is useful, friendly to the reader or not.
Compared to traditional advertising, Facebook is one of the fastest
digital marketing
channels to reach users and interact. Fanpage is considered a brand representative channel for businesses, so it needs to be taken care of.
3 – Effective Fanpage content
Standard
You can refer to the following links about Facebook's content uploader policy. If you still intentionally violate the policy, your site will be locked.
https://www.facebook.com/legal/terms
https://www.facebook.com/page_guidelines.php
https://www.facebook.com/communitystandards
Plan Content periodically
You need to plan periodically every month, every quarter. Each plan typically consists of subsections, presenting each item in one or more worksheets.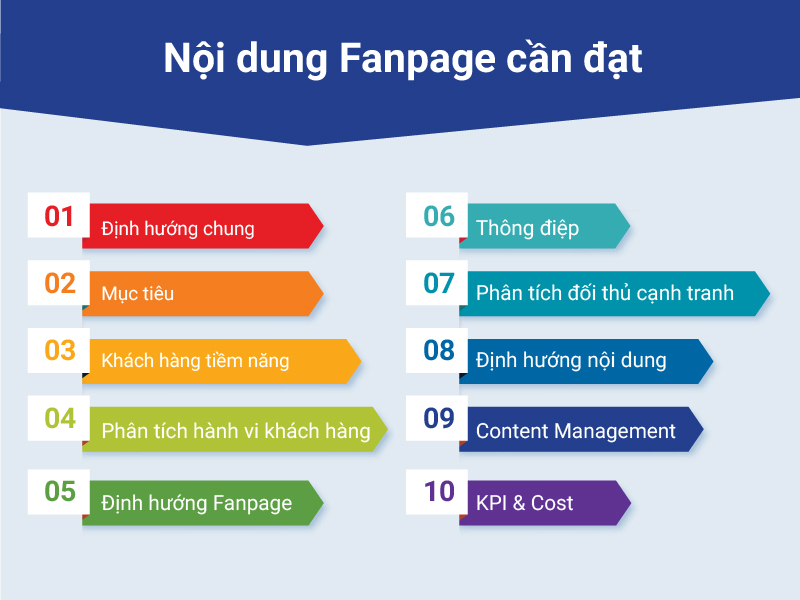 The weekly/daily plan will be more detailed content with specific plans: what to post, what content format. With a detailed plan and a long-term plan, you can define each strategy without deviation or omission of issues that customers care about.
Fanpage content is considered as the face of the brand to reach users, orienting them to act according to the wishes of the business. Therefore, it is required that content creators need to determine a common marketing direction and a uniform brand face.
A content marketing strategy will fail if the content spreads are misleading, not targeted and not beneficial to the business.
Comply with Edgerank algorithm
Each profile can make up to 5000 friends. So how can each of my posts or friends see each other? You need to follow the Edgerank algorithm to ensure reach and interaction.
Edgerank algorithm determines reach – the number of people who see your post. To create customer behavior, it is necessary to bring the content the business provides to reach customers to create behavior.
Parameters in Edgrank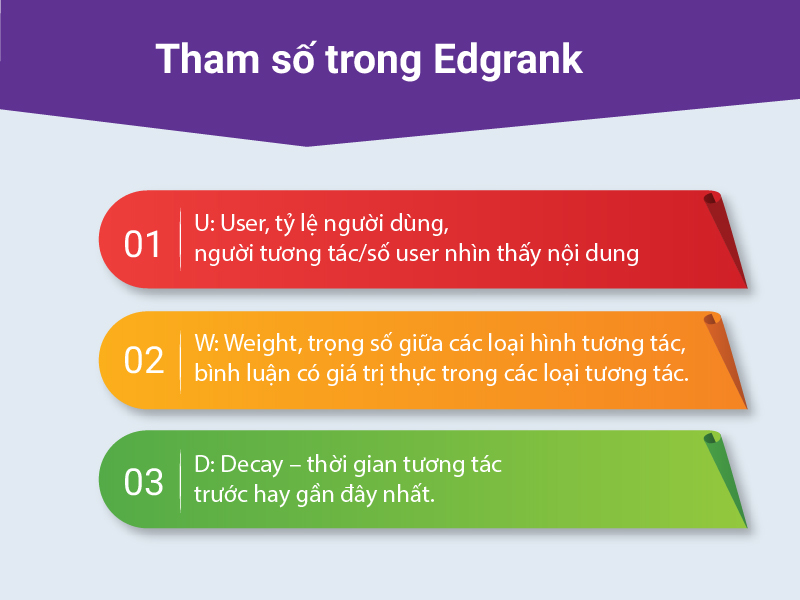 To keep the interaction, your content has viewers need to post the following content:
Content "sentence" like, comment: Regularly use content in the form of open-ended questions that pull users to answer, push W and U up. When the content is interesting, they will be drawn into the Edgerank circle, creating natural interactions for Fanpage.
When the interaction between the user and admin Fanpge back and forth, it creates good reach. Incorporating the best user experience when businesses always satisfy the individual needs of consumers. Requires admin to regularly respond to customers when customers comment and have a need to inbox the page.
Content suitable for products and customer needs
Depending on each product of the business as well as each fanpage strategy to be able to convey content suitable to customer behavior. Each customer file has different habits and behaviors to need to create appropriate content.
Golden time frame for posting
Not every time you post will be effective. Choose the right time frames to post high-reach and interactive posts.
11:30 to 1:30: is the ideal time frame to post sales articles. Because this time frame everyone is taking a lunch break and have time to surf facebook,
7pm-9pm: Please post at 8pm. Because online followers take advantage of their dinner time to see if the news feed has anything interesting or not.
Create a source of likes, adjust user behavior
The advice for you is to post content with photos combined with article links. When customers are really interested in the product, they don't hesitate to give you a click of a post on the website. Thus, you can provide information to customers, on the other hand increase traffic to the website.
MAYBE YOU ARE INTERESTED:
Content types that generate useful interactions
You can choose from the following types of fanpage content:
With shareable content, you should integrate your brand in the most effective way. This is the way that many famous brands often use to create interactions, introduce products skillfully without violating Facebook's policies.
Create effective Fanpage Content that attracts readers
To create a content creator – creative content needs to perform the following processes. This is just BC Agency's personal experience to share with readers.
Take care of images and content to bring readers the most useful information. A professional business in addition to investing in products, brand identity, content… should also invest in professional photos and videos by a designer. Doing well at each stage in marketing helps businesses bring good experiences to customers, create a good impression, and be friendly to them.
+
Instead of creating content that is stereotyped, mechanically you should create a user-friendly content. The ultimate goal is to bring their products to consumers. But not despite everything, too ridiculous ads will offend readers and listeners. Then the effect will be just the opposite.
Fanpage content needs:
Content needs to use Vietnamese completely. You should not add long or foreign languages. Because readers will be very uncomfortable with foreign languages, you have already lost 1 dong in them. Remember!
Caption – captions should be clear, easy to understand and concise. Do not rambling, greedy for words because readers have too many things to worry about and they can't give you 1 minute with unattractive content.
What products and services does the business provide in the first lines? Don't go around wasting your customers' time and the valuable reach your content needs to get.
Respond to users as often, as quickly as possible. It's the interaction you create to give your customers the best experience. As well as pulling good interactions for your Fanpage. Just sell a lot of goods and increase the reach of the page. Too great!
It is recommended to use friendly names: me & you, admin & friends are common names that create a high level of friendliness.
CONCLUSION
A few lines of experience sharing that BC Agency is creating effective Fanpage content to share with you. A business that wants to develop sustainably, in addition to focusing on product quality, also needs to have an appropriate marketing strategy to reach potential customers with useful content.