Bill Gates has a very famous saying "Content is King" – Content is king, to emphasize the importance of content in marketing today. For the fashion industry, quality content is the top criterion to attract customers. As a content creator, you need to hone every day to come up with stylish content ideas for your brand. Let's learn about creative content for fashion brands with BC Agency!
Categorize fashion content on each platform
In order for fashion content to be most effective, you must separate each type to write accordingly.
Fashionable content for website
Website is often used for customers to order and refer to other products of the shop. Therefore, fashion content for the website must introduce details about the product, highlight the design, size and material of clothes. The latest offers need to be updated on the website homepage to easily attract customers' attention.
Fashionable content on facebook fanpage
The facebook platform is a platform to reach many customers, so the content for fashion shops must also be extremely diverse. Language on Facebook can be sensational, cute, polite, … depending on the style of each product.
A person who makes facebook content for a fashion shop often has to cultivate a lot of new ideas or trends. Since clothing products are updated regularly, the content will need to be "produced" continuously.
Fashionable content ideas for fanpage
The inspiration of fashion content creators can come from many places: a place, a movie, a song, a photo, …. In this article, BC Agency will introduce you to a Some ideas to make fashion content attractive.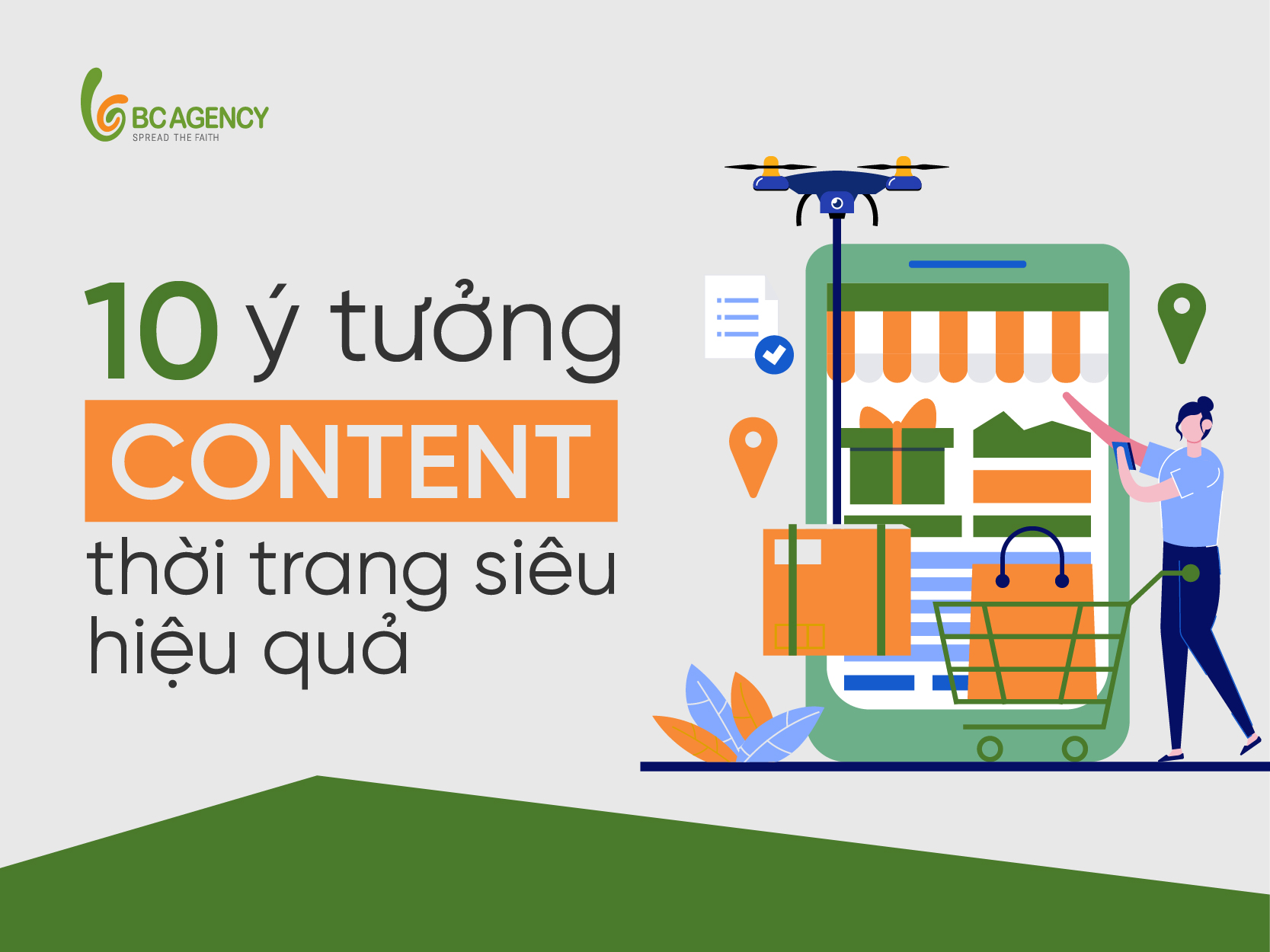 1. Use celebrities
The fastest approach to an audience is to use celebrities. Currently, fans tend to buy the clothes that their idols promote. Celebrities are influential, so what they wear or share inspires people. However, it is also necessary to pay attention to the selection of brand ambassadors. Because if that person is unfortunate enough to have a scandal, your product will be easily boycotted.
2. Use feedback
A fairly common fashion content is using positive customer feedback. A new customer who has never bought from the shop will be more likely to trust if they read the positive feedback from the old customer.
3. Photos and videos of the production process
Luxury fashion brands often use videos of the production process. From there, convey the brand story to customers. From the video, your customers can clearly see the materials and meticulous effort to create a product. You can invest in a video, or images of the product making process.
4. Emphasis on promotions
It is not uncommon to come across fashion content such as "sale up to 40%", "sale on the floor", "freeship up to 50k",… Promotions are used very often but never stop attracting with client. With the psychology of cheap desire, consumers will not want to miss a program with attractive promotions.
5. Catch the right trend
Fashion tastes change from season to season. You must ensure that you always grasp the current fashion trends to create appropriate content and images. If you do not know the trend, your content will be very boring.
Connecting your own story or creating a story to connect with the clothes is also a good way to attract customers. A real life story will make people easily empathize and care.
7. Fashionable content catches the trend
Applying hot sayings on social networks is the most attractive point. In order to catch the trend properly, you need to "snap" continuously. At the same time, you also have to "bounce" quickly so that a hot saying can create an attractive sales caption for your fashion shop.
This fashion content is also extremely popular, especially in local brand shops. Many customers want to buy clothes but do not know how to coordinate clothes to suit their body shape and face. Your mix and match collections will help them a lot. Besides, from a suitable mix and match set, customers can buy the whole combo at the same time. Thereby helping you increase sales.
9. Teasing about the new collection
Posted a few sneak peeks of the new collection. This will stimulate the curiosity of the customer. Along with the image, you can add a statement like "Guess what our new collection is?", to engage with your customers.
10. Wishes for special days
Special occasions such as holidays, Tet or anniversaries of the fashion shop are the days for you to organize events, give gifts or simply wish customers. These things make your customers feel remembered and appreciated. Do not forget to pay attention to every detail in each gratitude gift.
Fashion content creation service of BC Agency
With a lot of experience in the field of creating fashion content on facebook, BC Agency is honored to receive a lot of trust from customers. We have had the opportunity to work with many famous fashion brands across the country.
With only a reasonable cost, your fashion shop will be served from A to Z by BC Agency's professional, young and creative team.
We are committed that facebook content for your fashion brand will always be of high quality and attract customers.
BC Agency is always ready to support when customers have questions.
Contact us directly or sign up for a free consultation
HERE
.
CONTACT INFO:
Address: 399B Vu Tong Phan – Khuong Dinh – Thanh Xuan – Hanoi
Phone: 0838 586 166
Email: [email protected]