In the era of technology 4.0, the Internet boom makes it easy for people to receive rich and diverse information sources. In addition, digital marketing and advertising services approach potential customers through images, content, videos, etc. on social media channels such as Facebook, TikTok, etc. The content that businesses want to convey. referred to with the term Content Marketing.
Content Marketing is one of the main types of Digital Marketing digital marketing. Attractive messages appear everywhere that customers can see and pay attention to it.
For example, Vinamik's ads appear everywhere: Video on TV; banners in commercial centers, intersections; large photos on the bus; leaflets…
1 – What is Content Marketing?
Content Marketing (content marketing) as defined by
Wiki
: "Content is created to direct customers to actions that benefit the business". Or "Content marketing is a form of marketing that focuses on creating and delivering content to a target audience".
The content provided to the target audience needs to be authentic, educational, entertaining, and impact the emotions of the customer. Get your customers excited, trust you, and drive purchases. Therefore, content is the premise to help you do any type of marketing later such as: SEO, advertising campaigns.
This is a strategic marketing method that focuses on providing valuable and useful content to attract and retain a target group of people that businesses want to reach. The ultimate goal is to motivate customers to buy and increase sales for the business.
2 – Why Use Content Marketing?
If advertising offers normally will show their products simply. Customers can buy, or not, and on a certain location. It is somewhat "rude" to customers when exaggerating the product, without promoting purchase demand. But when you have a unique content marketing strategy that will attract and impress customers.
With content marketing, you'll need to focus on actual stories, rather than on product value propositions. All messages are conveyed in quality, engaging content.
Each customer makes buying behavior often based on emotions, not needs. Personal feelings and beliefs combined with real-life stories are synergies that help customers drive purchase action. Therefore,
brands
with content that reflect truthfully and vividly will be more likely to win hearts.
SEE MORE:
3 – What are the benefits of Content Marketing?
The content is not just text, but it is also adapted in the form of infographics, videos, etc. to help attract customers and spread rapidly on the internet. When you do good marketing, your product has a place in the market, sales will increase exponentially.
Content Marketing plays an important role in determining the success or failure of a brand.
Brand coverage: When your business builds engaging content to users. It will be a drug that stimulates customers to remember you, meeting you is ready to give you favor. Your brand is widely covered in the market.
Document store attracts customers, low advertising costs: When readers are interested in the content you share, that content has wide reach, the Content becomes an advertising channel 0 co-introduction of your product. to customers.
Professionalizing products: Quality content shared with everyone proves that you are a person who understands the product and respects customers. Content is professionally invested, increasing business value, creating customer trust.
A quality content not only drives customer buying behavior, but it also creates value for the business in a sustainable way. Requires businesses to invest in useful, user-targeted content.
4 – Build a Content Marketing Strategy
Before building marketing content, you need to agree on direction, goals and uniformity. There are billions of content created every day but only 10% of it is highly effective, the rest have no goals, no clear strategy.
Once you've established a solid foundation, you need to build a Content Marketing strategy:
Define goals: Related to the vision of the business, the goal you make the content. You need to be able to answer the question: "Our job?" "Achieve the goal?"
Define your audience: When implementing any strategy, you need to define who you are targeting. Next, the content needs to determine who you have written for, what industry, what age? Don't write viral content that isn't targeted at anyone.
Make a Marketing Plan: You need to research the market and plan you out within 1 week/month/quarter to not eliminate any audience or content.
Deployment of content: The plan, audience, and goals we need to start implementing content. Content can be videos, text, photos… attractive to reach users and spread.
Share content on co-channels: After you have attractive and unique content, you need to spread it on community channels so that readers can reach and know you.
5 – Create content that aligns with customer behavior
A content marketer needs to provide information and guide his or her customers who are "struggling" to find the products that their business is providing. Let's analyze consumer behavior:
The first stage: When the customer is interested in the product they have a need for. They start looking for information, see you, and they start to care about you but not you yet. Your job needs to attack customers with serious, evocative, educational sales messages.
Middle stage: Product informational content delivered like a true expert. For example, an in-depth article about their products, comparing to highlight the superiority of conquering customers to choose their products and not those of competitors.
The final stage: people who have definitely chosen your product. But they need a word of "encouragement" to make a purchase. Give them proofs, customer reviews who have used your product, testimonials that convince new customers to buy from you.
Incentives and promotions are also one of the strategic nudges to help turn new customers into passionate fans of the products your business offers.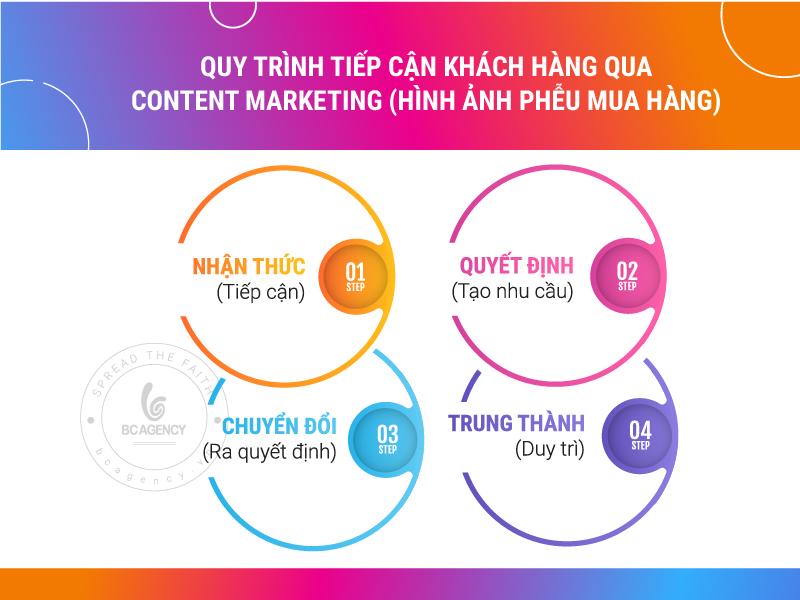 Be creative, bring useful information, positive ideas to inspire your Content Marketing strategy. Content is the same, the difference is that you need to create user-friendly, unique, impressive marketing content
What to do for great content ideas:
Keyword research: find out how your customers are in need?
Identify a list of common customer problems: note the questions that customers care about before – during – after purchasing.
Research your competitors: Find their successful compelling content for you to learn from.
6 – Create attractive Content Marketing
After you have assessed the behavior and problems of customers, you need to put visual content with in-depth, attractive articles.
In-depth, engaging content
If your digital marketing channels already have a new or steady following, you need to create engaging, in-depth content to drive traffic. A shallow article will not attract readers as well as make them stay longer with you. Try to create highly specialized, engaging, unique content.
Limit Text Content
Not every investment in a long article will help retain customers. Because many potential customers are afraid to read, or unattractive content will only make them skim through. Instead of using traditional text content, you can convey with images, audio, video …
Visual Content Marketing
In order for the content to be attractive and retain readers, a beautiful and spacious "roof" is the website. Your website needs to have a professional, clear, coherent, consistent layout design.
7 – Effective Content Marketing distribution channel
Social media
If you are looking for a place to distribute content for free, quickly and effectively, then social media will be the promised land for you.
Depending on the product that your business offers to the market to choose the appropriate channel. Channels suitable for the current market: Facebook, Zalo, Instagram, Youtube… Or you can post on Pinterest if your content is presented in the form of Infographics.
MAYBE YOU ARE INTERESTED:
Email marketing
Email Marketing Email Marketing will be suitable for small and medium businesses to save money. You will not lose any marketing fees and still be able to reach potential customers, turning them into loyal customers.
Combine content marketing and website optimization to get customers' email addresses. Use forms and resources like e-books to get customers to leave emails.
SEO & Blog
Your website integrated with Blog is the best way of content marketing. Good content appearing on the blog helps customers know you, your fluctuations keep up with market trends. Helping to increase your website's rankings and traffic, customers will surely come to you more.
CONCLUSION
Content Marketing plays an important role in deciding the success or failure of a product that a business launches, reaching potential customers. Create engaging, unique marketing content that moves customers' hearts. Differentiate in content like a pro, but being customer-friendly is sure to succeed.