The influence of color on marketing is undeniable. Color impacts from the act of buying to building trust. The colors you choose for your store space, branding and packaging can elicit different reactions from customers. Thereby creating the optimal environment to transact and increase brand awareness.
In this article, BC Agency will research color psychology to help brands choose the right color story for their products and services.
Understanding color psychology
Color psychology can be defined as the understanding of how different colors determine human behavior.
Use color psychology to create an effective color palette for your store. This can help increase a positive response to marketing messages, call-to-action buttons, and links. Understanding color psychology is essential to developing products based on customer psychology. Understanding how people react to different colors will give you an edge in eCommerce.
The benefits of color coordination in marketing
According to sources cited from Ukpos, color print ads are 42% more read than black and white print ads. Color is more likely to trigger our reactions than a piece of text. Color is the most important element on product packaging and advertising. Because it is the first thing that "catches" the user's eyes. Eye-catching and well-coordinated colors will help attract attention and remember the brand.
Have you ever walked into a room decorated with black tones and felt the sophistication and elegance? Or when you see a hot colorful product such as red, orange, yellow, you feel full of enthusiasm and passion? That's right, color can evoke a customer's emotions. An eye-catching color logo also makes consumers want to learn about the business. A product with eye-catching packaging also makes customers want to buy. That is the advantage of color matching.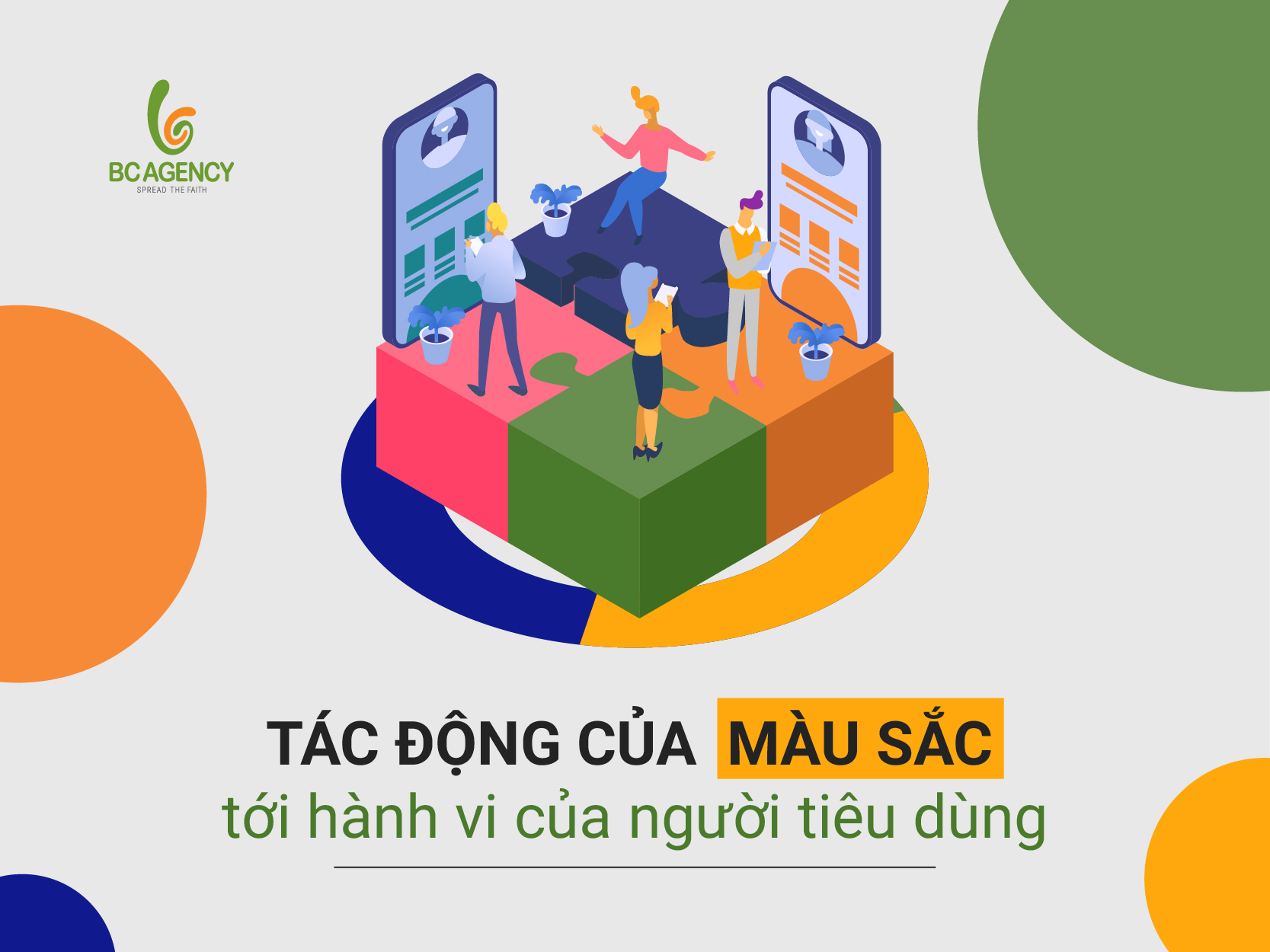 The meaning of some colors in business
Already know that colors play a huge role in marketing, so what are their meanings?
Red
We talk about red first because red is arguably the most useful color in marketing. It is known for its role in creating excitement and sense of urgency. So it can promote feelings of hunger, love and joy.
Many world famous brands use red in their logos and products. These include: CocaCola, KFC, Canon, NETFLIX, McDonald's, Colgate, Youtube, Beats,…
Red is also often used to indicate sale or promotional prices.
Blue
Contrary to red, blue symbolizes confidence, peace and stability. Blue is often used as a background color or appears in products or images related to insurance, drugs or finance.
Green
Green gives customers a warm and pleasant feeling. It also evokes feelings of goodwill, health and environmental responsibility. Green is also known to be the color of money and evokes thoughts of wealth.
Yellow
Yellow is commonly known as a color of the sun, sunshine. So it is the color of creativity, fun, and warmth. Besides, when it comes to yellow, many people consider it the color of wealth and luxury. So it is very suitable for jewelry and fashion products.
Black and white
These are the 2 most versatile colors in the palette.
While black symbolizes mystery, modernity, and gloss, white stands for purity.
Black and white can be considered a duo that never goes out of style. Regardless of the industry, you can consider including one of these two colors in your products and brands.
The areas that use these two colors the most are technology, electronics, computer supplies, fashion and accessories.
Coloring principles for newbies
Before embarking on color schemes, you need to know the following color scheme rules.
Monochromatic color scheme
Monochromatic color scheme is to use only one dominant color or to use shades of one color to mix. Although this color scheme will create a pleasant feeling, the designer needs to be subtle so that the product is not too monotonous.
Similar color scheme
Analogous color matching is mixing colors that are next to each other on the color wheel. This combination will make the colors richer. Help the viewer easily distinguish the different content on the product.
Designers need to find the dominant color to make the color appear the most. Other colors will be used to complement the main color or for small details.
Direct complementary color scheme
This color scheme is to use symmetrical color pairs on the color wheel to combine. These are opposite colors, creating uniqueness and attraction.
When performing this combination, you should not use colors with light shades, otherwise it will lose the effect from the contrasting properties of colors.
Complementary color scheme of the trio
This color scheme is to use 3 colors at 3 different angles to form an equilateral triangle on the color circle. This way creates very high contrast, vibrant colors.
However, this is a very difficult combination to create beautiful products, so this requires the designer to be very delicate.
Tetradic color scheme
This is the most difficult combination. This scheme is to use 4 evenly spaced colors on the color model. You will have 2 cool colors and 2 warm colors. Complementary colors create a visual explosion. To create an effective product, the selection and distribution of colors will take a lot of time. But if you invest meticulously, the results will be great.
Conclusion
If you want to be successful in promoting your brand as well as your product, you need to invest in understanding color psychology to apply it to customer psychology research. Above are the shares of BC Agency about the impact of color on consumer behavior and color schemes for newbies. Hopefully our sharing will help your business design quality products.
If you encounter any problems, BC Agency is here to help. We and a team of professional designers have built brand identities, product packaging, logos, … with impressive colors, bringing great success to many businesses.
Contact us now for enthusiastic advice!
CONTACT INFO:
Address: 399B Vu Tong Phan – Khuong Dinh – Thanh Xuan – Hanoi
Phone: 0838 586 166

Email:

[email protected]