You cannot succeed in any field without a specific strategy. So is marketing. Marketing is the collaboration of all parts of a business, including creative, finance, sales, and engineering. To be successful, you must have a well-organized marketing strategy. With the current fiercely competitive market, many businesses struggle to find the right strategy for them. To help businesses develop in the right direction, BC Agency's marketing strategy consulting service is an effective solution.
What will you get from BC Agency's marketing consulting service?
Overall marketing consulting is giving advice or guiding a business to the right steps. It needs to be done for a long time between the business and the consulting unit in order to discover the difficulties and mistakes to overcome. At the same time, draw a cross-cutting strategy for the business. So what benefits will you get when using BC Agency's marketing consulting services?
1. Receiving short-term and long-term marketing strategies
Marketing consultants will provide strategies and plans to help businesses achieve their short-term and long-term goals. The BC Agency will analyze the situation of the business and the factors affecting the business.
2. Define a clear goal
Overall marketing consulting service helps you get rid of small goals and focus on more pressing goals. We will rearrange the target so that it is reasonable. Thereby, helping businesses achieve their goals.
3. Receiving reports on metrics
BC Agency will follow key metrics like daily traffic, website traffic, sales conversion rate, social engagement, profit margin, etc. We will monitor the progress of the business to find out the challenges that are facing and find ways to overcome them.
4. Fill the resource gap
A small business wants to do all the work on its own. This leads to missing a few points of error. This is why you need a BC Agency marketing strategy consultant to find the hole for you.
When to consult a marketing strategy?
The most appropriate time for businesses to consult a marketing strategy is:
Businesses want to expand their business model

The business wants to promote a new product

Sales not reaching target

No specific marketing plan

New business and don't know how to make a methodical marketing strategy
The process of consulting marketing strategy of BC Agency
BC Agency marketing strategy consulting process is carried out in 5 stages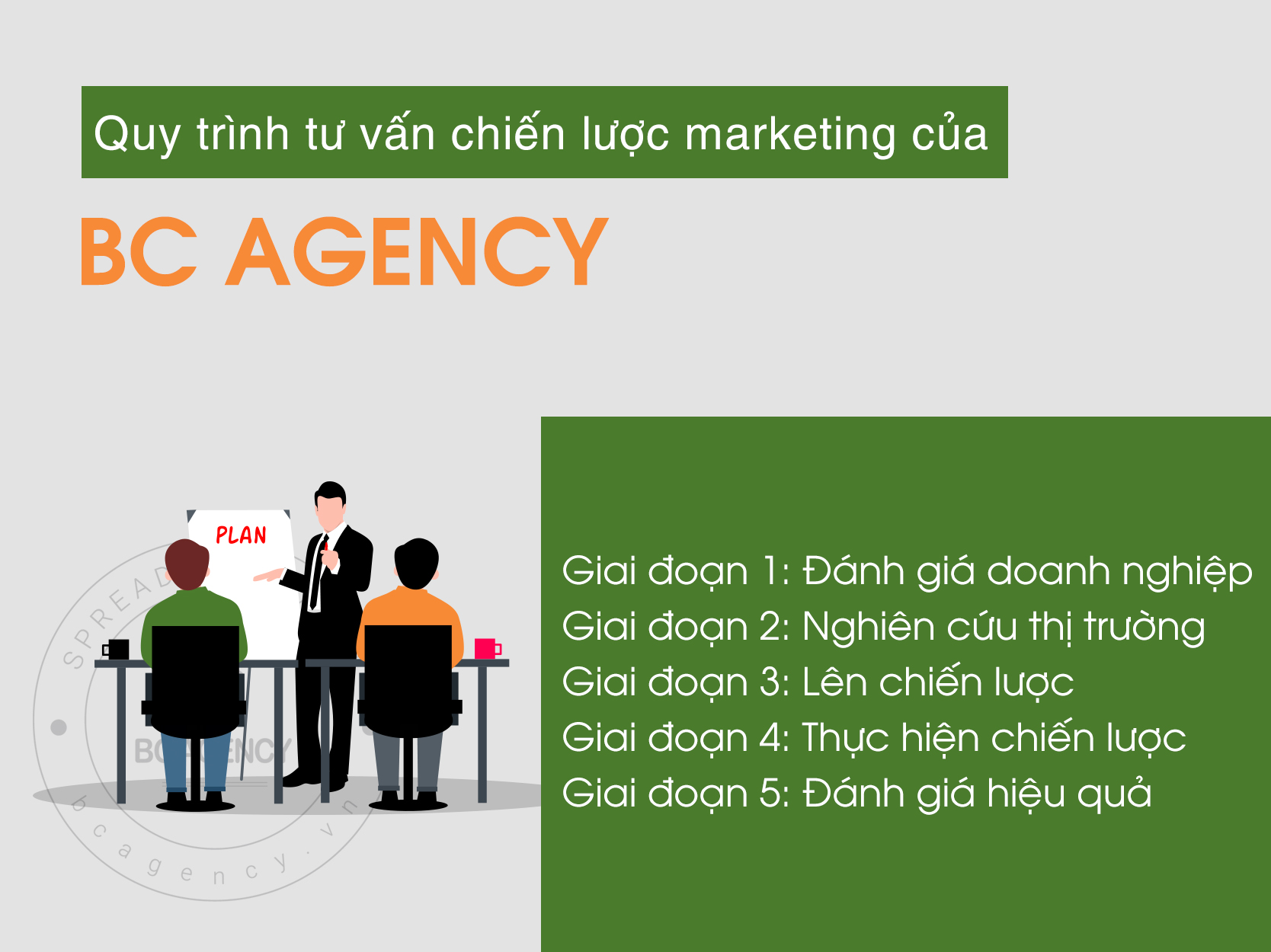 Stage 1: Enterprise assessment
Our first job is to capture your business model, goals and challenges. At the same time, we will study the effectiveness of your current business strategy. Issues to keep in mind include:
USP: Does your business have any special strengths and attractions?

Technology: Is the business automation platform optimal?

Workflow: How is your strategy implemented?

Human Resources: Evaluate employee's working skills.
Stage 2: Market research
The next phase BC Agency will learn about the market context in which the business operates. At the same time, research on target customers, customer behavior, competitors, SWOT of the business.
Stage 3: Develop a marketing strategy
After having a clear understanding of the market and the business, we will embark on a strategy.
This stage may include:
Solve problems

Improve customer segmentation

Workflow redesign

Redesigning the customer journey

Identify and rearrange specific goals
Stage 4: Strategy implementation
After planning, we will work with you to implement the strategy.
Along with implementing business strategies, we also advise businesses on brand development. In order to help the two factors be identified and develop side by side.
Stage 5: Evaluating the effectiveness after launching the strategy
The evaluation process is one of the important ones. After implementing the strategy, we will measure and evaluate the effectiveness of the strategy. From there, focus on developing effective jobs and making changes to correct errors.
BC Agency's overall marketing consulting service
No matter how good your product or service is, it cannot succeed without reaching customers. In order for customers to know, you need to find a way to attract them. A business without a specific marketing strategy will find it very difficult to achieve the set goals.
For businesses who are still struggling to find the right path for themselves, BC Agency's marketing strategy consulting service is a perfect alternative.
BC Agency with professional working style, professional consulting experience, highly specialized team. We are committed to helping your business find the right direction for you.
Please contact us immediately for advice on the most methodical marketing strategy.
CONTACT INFO:
Address: No. 399B Vu Tong Phan, Khuong Dinh, Thanh Xuan District, Hanoi
Hotline: 0838 586 166
Email:

[email protected]
REGISTER NOW